Direct contacts
Description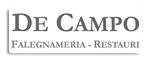 De Campo joinery work in the wood industry with passion and experience.
In addition to restoration and woodworking we also deal with windows and doors, as partners in Valtellina and Engadine of trademarks SÜDTIROL FENSTER and doors RUBNER.
All our works look with particular focus on the so-called green architecture (architecture for energy efficiency), for this reason in all our products the quality is visible through the certification of which are provided.
Also we recently embarked on a new journey in the furniture world, founding DekKar mark, who wants to be the fusion of art and handicraft offering unique offering unique products of its kind, where the materials of the past meet simple and modern lines.
DekKar's products range from furniture to the contract, being able to meet any need, from those architectural (paneling, wainscoting, ceilings, etc. ...), to those decorative and furnishing. Because his ideas never stop to born and grow and its projects are specially created to satisfy all customers, even the most demanding.
Specialty, Experience, Utility: